A researcher at UC3M wins the national edition of FameLab 2018
It is the biggest science communication competition
5/18/18
Mathematician and physicist Juan Margalef, researcher at Universidad Carlos III de Madrid (UC3M) won the national FameLab final, the world's leading science communication competition. It is organised in Spain by the Spanish Foundation for Science and Technology (FECYT) and the British Council, with collaboration from the social fund "La Caixa".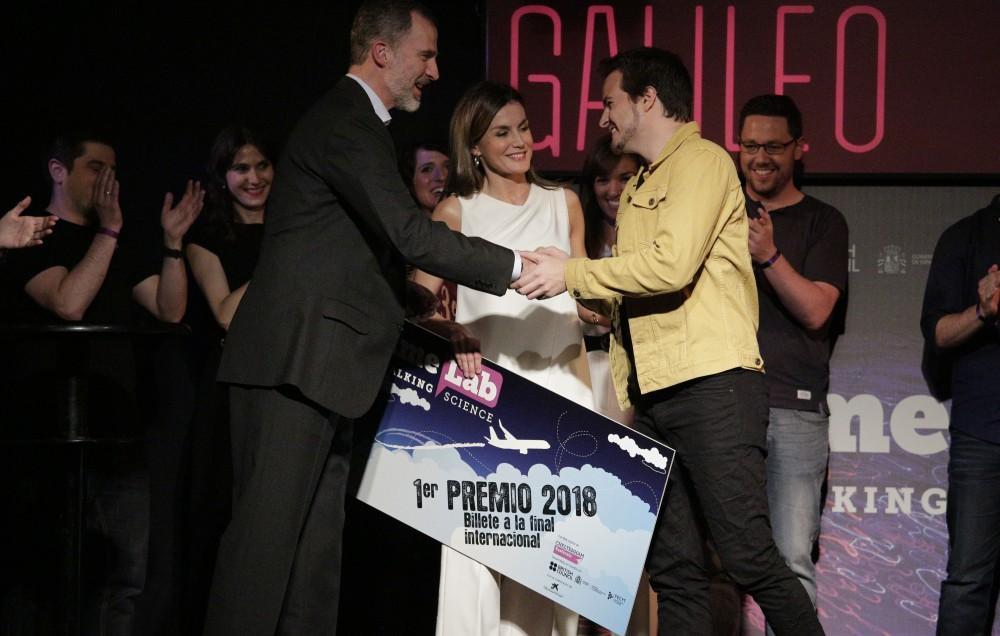 The Spanish final of the competition, which took place last night in the Madrilenian room Galileo Galilei, was chaired by King Felipe and Queen Letizia, who also awarded the top prize to the winner. The Minister of Research, Development and Innovation, Carmen Vela, and the United Kingdom ambassador to Spain, Simon Manley, were also present, among other figures.
After winning the national final, Juan Margalef will represent Spain at the international FameLab science communication final, which will take place next June at the Science Festival in Cheltenham (United Kingdom). Here he will compete against competitors from other European, Asian, and African countries as well as from the USA.
In the topic "Questions and disasters" Margalef explained how questions without obvious importance have given rise to new branches of science, and he prevailed over the rest of the participants. The jury was made up of Pere Estupinyà, a biochemist and scientific communicator; María Martinón Torres, Director of the National Centre of Research about Human Evolution (CENIEH); and Eduardo Sáenz de Cabezón, mathematician and science youtuber. They evaluated the participant's ability to tell an enjoyable science story that is easy to understand in three minutes.
Juan Margalef studied Mathematics and Physical Science at the Universidad Complutense de Madrid and currently works in a research group named Field theories and statistical mechanics from the unit associated with UC3M and the Institute for the Structure of Matter at CSIC.
FameLab started in 2005 thanks to an idea from the Cheltenham Festival, whose main objective is to encourage the dissemination of science, identifying, training and teaching new scientific talents through an innovator's format: scientific communication. Since 2007, thanks to an association with the British Council, FameLab has taken place in more than 30 European, Asian and African countries, including the USA. There are already more than 7,000 researchers from all over the world who have taken part in at least one of the editions.