UC3M's commits to an interdisciplinary approach in its new Bachelor degree programs
A total of 70 percent of its degree programs can be studied in English or in a bilingual modality
2/26/18
Universidad Carlos III de Madrid (UC3M) will offer three new Bachelor Degree programs in academic year 2018/19: Bachelor's in Data Science and Engineering, Bachelor's in Business Management & Technology (both offered only in English, and the bilingual Bachelor's in History and Politics, with instruction in Spanish and English. The UC3M has one of the largest academic offerings of bilingual studies among the Spanish universities, as more than 70 percent of its degree programs can be pursued in English or in a bilingual modality.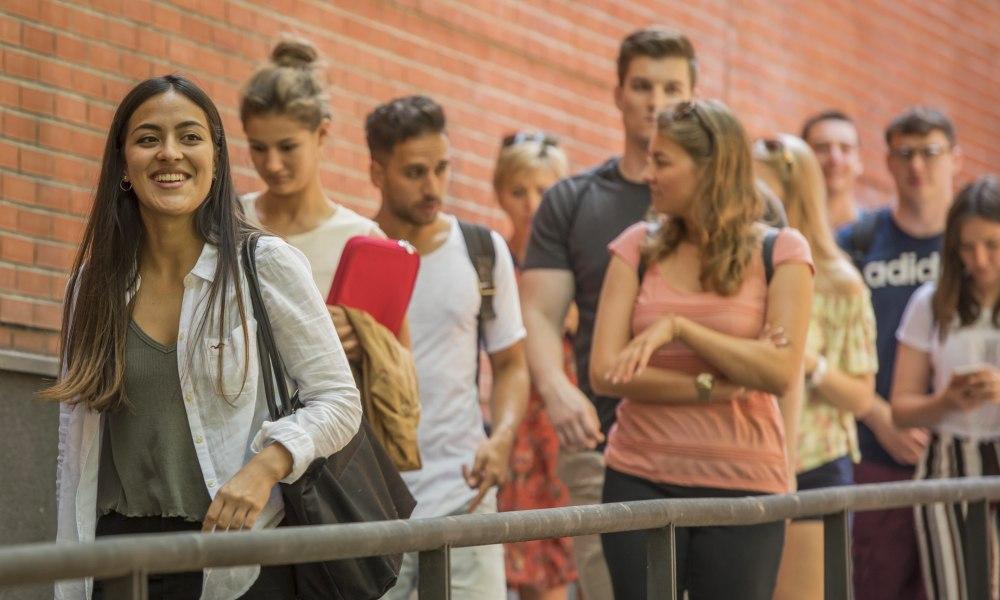 The UC3M Bachelor's in Data Science and Engineering seeks to endow professionals with the capacity to analyze Big Data in order extract meaning, highlight importance, and take intelligent decisions. For that purpose, it combines subjects such as math and information technology with new tools coming from the digital technologies of information and communication, including statistics, artificial intelligence and automated learning.
The UC3M Bachelor's in Business Management and Technology aims to train professionals to enable them to optimize the possibilities of technology for future business management. This program is multidisciplinary and incorporates technological focus of a managerial type (Enterprise Resource Planning), as well as a business orientation in technological and Information- related subjects (Big Data analysis, Business Programming).
The UC3M Bachelor's in History and Politics provides interdisciplinary training and education to the student in order acquire a global understanding of the great processes of political change within a historical perspective and to enable history to be studied from the political science viewpoint. Thus, it is of interest for future historians with an analytical vocation as well as future political and social scientists who wish to understand well the historical roots of today's issues and problems.
Interpersonal professional skills
For academic year 2018/2019, UC3M will incorporate a new series of specific subjects for the development of professional skills for the Bachelor degree student. As of next academic year, the course "Advanced Professional Skills" will be progressively incorporated into all the academic curriculums, with a wide array of workshops from which to choose: interpersonal communication, skills development in conflict management, negotiation, time and personal work management, among others. Its goal is to contribute to the acquisition and development of highly demanded skills within a professional environment, with a mainly practical and applied approach.
Next academic year will also feature the third edition of "UC3M Open Degrees" in Social Sciences, Humanities and Engineering, targeting those students who have not made a final choice about their major or professional career upon entering the University. As such, these students are able to encounter courses from different areas of knowledge enabling them to decide from "within" the professional path they wish to follow. In this way, during the first year and a half, the student can choose from a broad academic offer. During the second or third year, they can then decides which degree to pursue.
Bilingualism, professional placement and internationalization
UC3M has one of the largest academic offerings of bilingual studies among the Spanish universities: more than 70 percent of its degree programs can be pursued in English on in a bilingual modality. (Including attainment of a certificate accrediting having carried out studies in this language.) In addition to the professional advantages, studying a Bachelor's s degree in English allows students to meet a student body proceeding from dozens of countries. In fact, the percentage of international students coming to study at UC3M is continually increasing. At present, they represent approximately 20 percent of the total student enrollment, rising to 40 percent for Doctoral students and around 30 percent for Masters' students.
According to the "XXII Estudio de Inserción Profesional UC3M" (the 23rd Study on UC3M Professional Placement) for the 2016 graduating class, elaborated by Fundación Universidad Carlos III through its Servicio de Orientación y Empleo (Office of Orientation and Employment), in collaboration with Accenture, 92.3 percent of UC3M graduates enter the job market in their first year after graduation. According to this report, the overall satisfaction of graduates is very high. In fact, 96.4 percent would recommend studying at UC3M. At the same time, the University has agreements with more than 6,000 companies and institutions where UC3M students can carry out professional internships and access its job bank.
UC3M attracts top students from Spain and is a leader in internationalization according to the CRUE report "La Universidad Española en Cifras 2015/2016" (The Spanish University in Figures 2015/2016). More than 40 percent of UC3M graduates have carried out an international stay. In fact, students can request doing part of their studies and a professional internship in more than 50 countries. Throughout the past three decades, more than 25,000 UC3M students have participated in these exchange programs.
UC3M is a public university whose mission is to contribute to the betterment of society through advanced research in accordance with rigorous international criteria and high quality teaching. Accordingly, it strives for excellence in all of its activities. It is ranked among the top 30 universities in the world among those less than 50 years old, according to the Ranking QS Top 50 Under 50, and it is included in the Times Higher Education (THE) World University Rankings 2018 as one of the best universities in the world.
Further information: www.uc3m.es/grados