Anant Agarwal and Eric Maskin, new UC3M Honorary Doctorate Recipients
2/16/18
Universidad Carlos III de Madrid (UC3M) has conferred the title of doctor honoris causa upon Professor Anant Agarwal, from MIT and the CEO of edX, and Professor Eric S. Maskin, from Harvard University and a Nobel Laureate in Economics, in recognition of their outstanding scientific and academic achievements.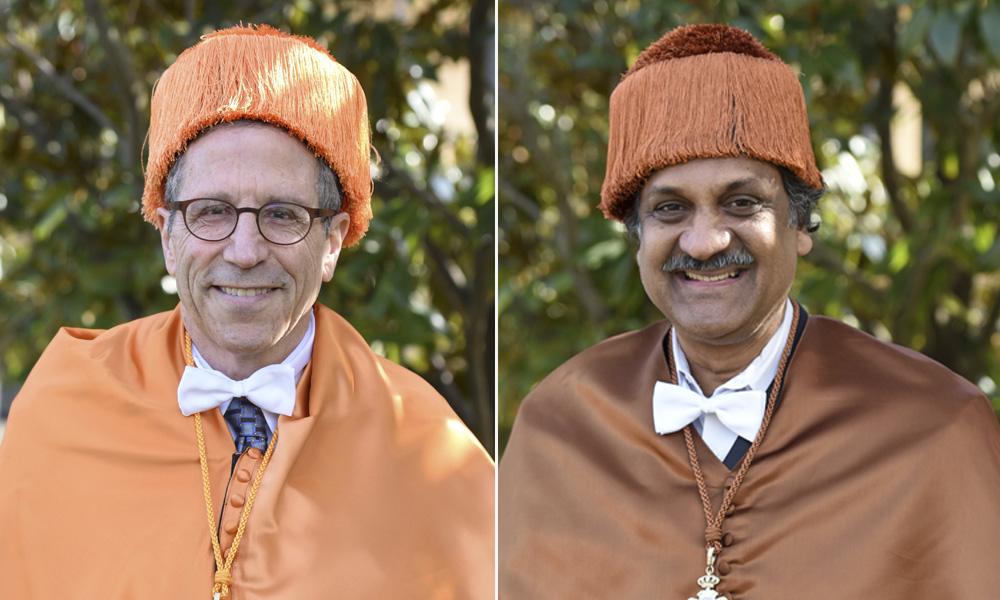 In the ceremony held on the Getafe campus in which more than 35 new UC3M doctorates were awarded, the two honoris causa gave the keynote speeches. The tribute to Anant Agarwal was given by Professor Carlos Delgado Kloos, from the department of Telematic Engineering, whereas the tribute for Eric S. Maskin was undertaken by Professor Luis Corchón, from the UC3M Economics department.
Eric S. Maskin (New York, 1950) is a Full Professor of Economics at Harvard (USA). He holds a Ph.D. in applied mathematics from this same institution and was a research fellow at Cambridge University and a Full Professor at the Institute of Advanced Studies at Princeton and at MIT. Maskin has made noteworthy contributions to political economy, contract theory, game theory, among other fields. In 2007, he received the Nobel Prize in Economics (together with Leonid Hurwicz and Roger Myerson) for laying the foundation of theory of mechanism design theory. "This theory is in its infancy, but even so it has produced important applications: for auctions, like the ones for the radio spectrum, pairing theory (which has designed efficient mechanisms for organ transplant and for assigning students to schools), the fight against pollution,food distribution for the poor, and finally, it is also being considered for cryptocurrency applications," pointed out Professor Luis Corchón.
Anant Agarwal (Mangalore, India; 1959) is an Electrical Engineering and Computer Science Professor at MIT (Massachusetts Institute of Technology). He holds a bachelor's degree from the Indian Institute of Technology Madras, and a Ph.D. in Electronic Engineering from Stanford (USA), where he worked until joining the MIT faculty as a professor. In addition to his teaching and research into computer architectures, digital circuits and filter design, he also stands out for his facet as an entrepreneur. In recent years, "he has become a key figure in digital information," highlighted Professor Kloos. Since 2012, Agarwal has been CEO of edX,, the digital education platform founded by MIT and Harvard to offer MOOCs (Massive Open Online Courses). "Anant established the challenge of educating a billion people in 10 years and is one of the most important leaders in this area, having received all off the prizes and awards possible relating to MOOCs and digital education," added professor Delgado Kloos.
Further information: