One out of five UC3M students are international
Data for academic year 2017/18
2/15/18
The percentage of international students who come to carry out their studies at Universidad Carlos III de Madrid (UC3M) continues to increase. Currently, they represent approximately 20% of the student body, reaching 40 percent for doctoral students and around 30% for master's' students.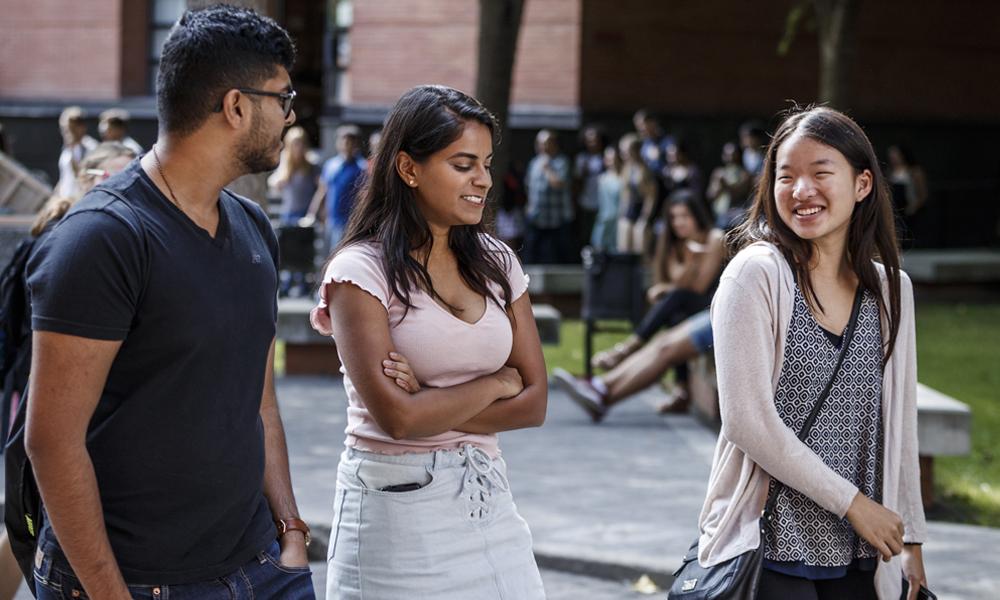 Erasmus+
Nearly 1,000 international Bachelor degree students have come to study at UC3M within the framework of the Erasmus+ program during academic year 2017/18. These 957 students come from 27 countries, including Italy (189), France (153), Germany (108), the Netherlands (96) and the United Kingdom (92). In addition, another 39 students have come to UC3M this year to purse graduate studies through the Erasmus Master's Program.
UC3M has formed part of the Erasmus program almost from its inception and has become one of the first countries in Spain and in Europe in the number of its students participating. Throughout the past three decades, more than 25,000 UC3M students have taken part in this exchange program. Currently, UC3M has agreements with 400 European universities so that their undergraduate and graduate students can study one or more semesters at these institutions.
Non-European Mobility
During this past academic year, UC3M received 846 international undergraduate students from other countries throughout the world through the Non-European Mobility Program. In this case, they come from 21 countries, chiefly the USA (464) and others such as Brazil (75), Canada (67), Australia (43), Argentina (29) and China (28).
At the same time, 982 international students have participated this year in the "Cursos de Estudios Hispánicos" (Hispanic Studies Courses), the "Free Movers" program and the "Study Abroad Program", managed by the Carlos III International School of UC3M. In addition, close to 100 students have also taken part in the second edition of its "International Foundation Program" (a year-long college prep course for high school graduates who wish to prepare for studying a bachelor's degree.)
Graduate and Doctoral Students
More than 1,200 students and professionals from diverse countries have come to the UC3M School of Graduate Studies to complete their education with a master's in research; a master's program which enables them to carry out regulated professional activities; or an academic-professional master's. In fact, 35% of the 110 graduate education programs are taught in a bilingual format or solely in English
Around 500 international students are currently enrolled in UC3M doctoral programs, coming mainly from Latin America, the European Union, and China. The UC3M Doctoral School strives for excellence in training researchers within the framework of University's research lines and strategy.
Commitment to internationalization
UC3M is committed to internationalization and holds a high number of agreements with top universities worldwide to foment academic mobility. Specifically, it has signed almost 1,000 agreements with world-class universities in 60 countries, European as well as others. Furthermore, UC3M is the Spanish university with a largest offer of bachelor degree programs taught in English or in a bilingual format (27), representing 67% of its academic offering. .
The areas of study preferred by international students are Business Administration (277), the degree program most requested, followed by Engineering in Industrial Technologies (72), Law (61), Humanities (61), Economics (60), Mechanical Engineering (40), Audiovisual Communication (33), Computer Engineering (30), Journalism (28) and International Relations (21), among others.
Welcome Event
UC3M recently held its Welcome Event on the Campuses of Getafe and Leganes for second semester academic year 2017/18 incoming international students. Approximately 80% of these students participated in order to receive orientation and in-depth information on the facilities and services at UC3M, in addition to its cultural activities, sports, and the social offerings from student associations.
These welcome sessions were organized by the International Relations and Cooperation Services (SERIC), the International Office on the different campuses, and the Carlos III International School in collaboration with the student ESN (Erasmus Student Network) and BEST (Board of European Students of Technology), as well as the 75 "Buddies" (UC3M students who take part in the Programa Compañeros Internacional).