Universidad Carlos III de Madrid and Banco Santander Award Social Council's 2017 Prizes for Excellence and Enterprise
5/16/17
Today the 2017 Universidad Carlos III de Madrid (UC3M) Social Council Prizes for Excellence were awarded. This is the ninth edition of the awards, supported by the Banco Santander, through Santander Universidades, and Airbus Group. The second annual TGF-Emprende Prizes were also awarded.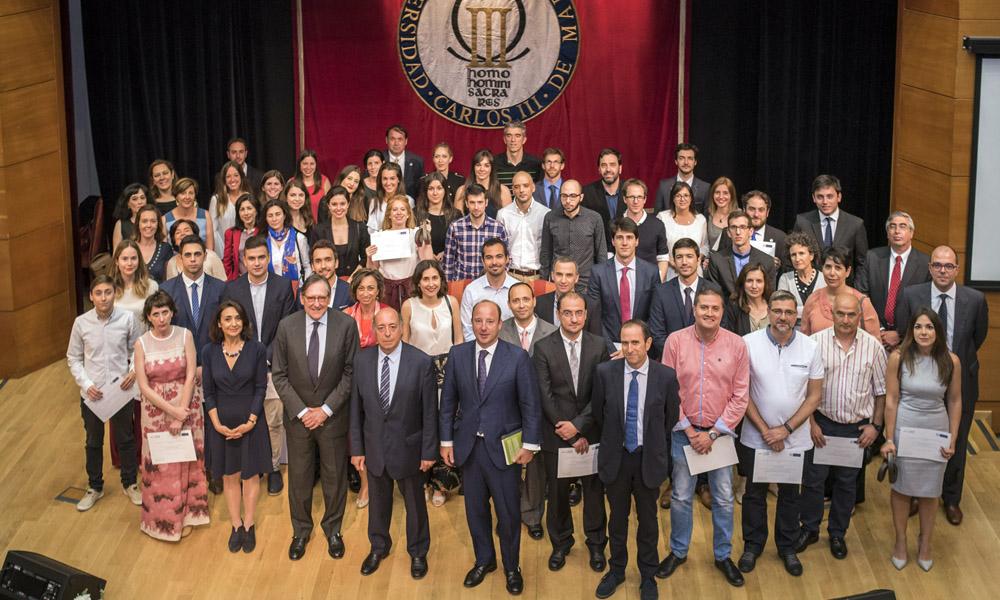 The ceremony, held at the Aula Magna on the Getafe campus, was attended by UC3M Chancellor Juan Romo and Matías Rodríguez Inciarte, the Vice-Presidentof Banco Santander and President of the Social Council. Also in attendance were Vice-President of Santander España and Banco Santander Secretary General of Communication, Corporate Marketing and Studies Juan Manuel Cendoya; Director of Selection and Training in Spain and Director of the Airbus Group program Universidades España José Luis Berruga; and Assistant Secretary General of Universities of the Autonomous Region of Madrid Carmen García Galán.
The purpose of the awards, sponsored by the UC3M Social Council, Airbus Group and Banco Santander, is to recognize and stimulate effort, quality, innovation and contribution to the excellence of the university community. They are an initiative that promotes enterprise and values work done by members of four groups at the university: alumni, students, young research personnel and administrative and services personnel. Moreover, they represent an opportunity to give visibility to young entrepreneurs, international researchers, brilliant students, personnel of excellence in administration and services and university graduates whose professional careers are an example of success.
To guarantee the quality and transparency of the selection process, the Social Council had a panel of renowned experts from outside the university, including several honorary doctors, members of Royal Academies and high-level managers of different companies.
Distribution of 64 Awards and 362,000 euros
Three hundred seventy-three people participated in the ninth edition of the Prizes for Excellence and four projects were presented in the second edition of the TGF-Emprende Prizes. In total, 362,000 euros were divided up among the 64 prizes that were awarded: two for entrepreneurial projects and 62 as recognition of the career paths of young research personnel, administration and services personnel, students and alumni.
Among the prizewinners are two recently graduated entrepreneurs who, grouped in two TFG-Emprende projects, share 20,000 euros, 10 young internationally recognized researchers who receive 15,000 euros a year for two years, and 22 students who receive 1,000 euros for their excellent academic record. In addition, a prize of 20,000 euros was awarded to the members of a team of administrative and services personnel who worked on a project that contributed to excellence, multidisciplinarity, innovation and quality at the UC3M. Lastly, a diploma and trophy were awarded to 10 former UC3M students in recognition of their prominent professional careers or entrepreneurial activity. The 10 winners pertain to two categories: those who graduated three or five years ago, and those who graduated more than five years ago.
The backing of these prizes by Banco Santander is part of the relationship it has maintained with the UC3M since 1999 for the development of this and other types of academic projects. Banco Santander invests more in education than any company in the world (Varkey/UNESCO-Fortune 500 Report), and through Santander Universidades, it has 1,200 collaboration agreements with universities and academic institutions in 21 countries.
The Social Council is the university government body whose main goal is the participation of society in the university. Its functions are to collaborate in the definition of the university's strategic planning, to promote policies of quality and continuous improvement of university services and activities, to promote the particiption of society in university activity, especially its financing, and to foster relationships between the university and its cultural, professional, economic and social environment
Further information: Premios de Excelencia 2017