Seminar on Open Education at Universidad Carlos III de Madrid 2016
Seminar on Open Education at Universidad Carlos III de Madrid 2016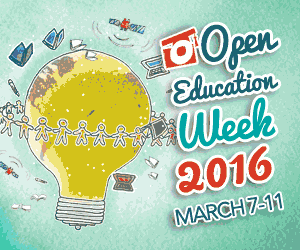 In the framework of the Open Education Week, promoted by the Global Open Education Consortium, Universidad Carlos III de Madrid in collaboration with the Madroño Consortium is holding a workshop on 'Libraries and MOOCs: Experiences at Spanish universities'.
USEFUL INFORMATION:
March 8, 2016
Getafe Campus
Aula Magna
Calle Madrid , 126-128
28903 Getafe
Venue: Main lecture hall (Presidency Building)
Attendance is open and free for all. Registration required.
With the emergence of Open Educational Resources and more recently MOOCs (Massive Open Online Courses), institutions in general and faculty in particular, have been immersed in the world movement of Open Education. In this new scenario, many institutions have understood the need to create support teams to assist their teachers when creating this type of educational resources. Here the Library plays an important role, given its experience in all matters relating to copyright and free licenses and the search and selection of educational resources. In fact, the Library is the natural ally to support and promote open education initiatives at your institution.
The aim of this workshop, organized within the scope of the MADROÑO consortium and its member universities, is to provide insight into the fundamental role of the Library in Open Education, as well as share significant experiences that have recently taken place in this field.
Program
9:30h
Reception and registration
10:00h
Welcome speech
Carlos Delgado Kloos, Vice-President for Strategy and Digital Education, UC3M and Ianko López, Technical Director, Madroño Consortium
10:20h
Library as leader in Open Education
Teresa Malo de Molina, Library Head, UC3M.
10:45h
Library and faculty working as a team: the instructor's perspective
Manuel Sanjurjo, Bioengineering and Aeroespace Engineering Department, UC3M
Session Chairperson: Carlos Delgado Kloos, Vice-President for Strategy and Digital Education, UC3M
11:15h
Coffee Break
12:15h
Panel discussion: Experiences at Spanish University Libraries

Experience 1, Carme Cantos and Manel Jiménez, Universidad Pompeu Fabra.
Experience 2, Beatriz Tejada, Universidad Nacional de Educación a Distancia.
Experience 3, Raúl Aguilera and Rosa Sánchez, Universidad Carlos III de Madrid.

Session Chairperson: Eva Méndez, Deputy Vice-President for Strategy and Digital Education, UC3M.
13:15h
Closing Session