La UC3M, universidad más comprometida del 2022
7/6/22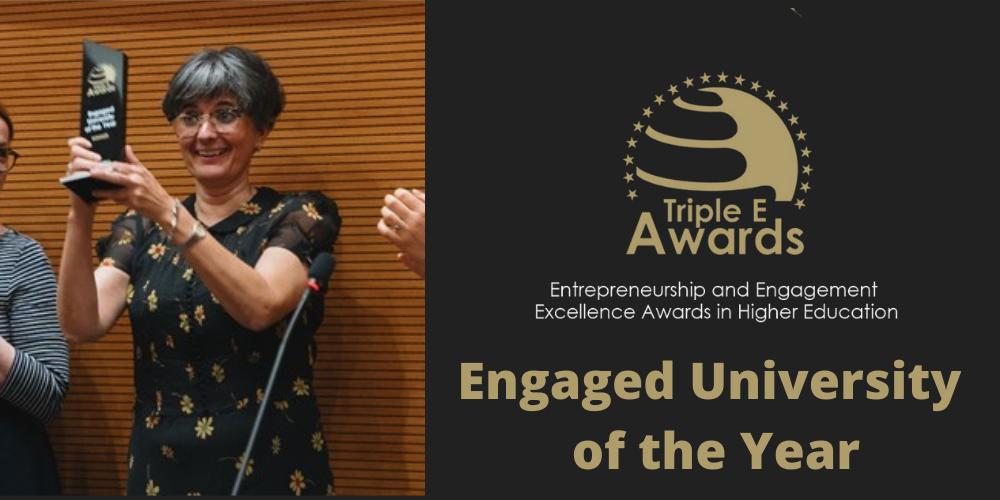 La Universidad Carlos III de Madrid recibió el pasado 28 de junio el galardón Engaged University of the Year en los "Triple E Awards", otorgados por la prestigiosa organización internacional ACEEU (Accreditation for Entrepreneurial and Engaged Universities).
La gala celebrada en Florencia contó con la participación de más de 25 universidades y centros de estudios superiores repartidos por todo el continente europeo, destacando por su compromiso e innovación en toda su estructura educativa. Además, contó con la presencia de 30 figuras educativas que marcarán el futuro de la enseñanza en toda Europa en los años venideros.
Entre los finalistas al Engaged University of the Year destacan la School of Engineering de Jönköping University (Suecia), University of Rijeka (Croacia), Kozminski University (Polonia) y Manchester Metropolitan University (Reino Unido).
La encargada de recoger el galardón fue María José Herrero, Directora de la Unidad Internacional para la Investigación y el Conocimiento de la Vicegerencia de Investigación y Transferencia.
De esta manera, la UC3M se posiciona como la universidad más comprometida de Europa en materia de excelencia académica y emprendimiento internacional.

Puedes acceder a la crónica de los "Triple E Awards" en el siguiente enlace: https://bit.ly/3OOZUZc