GOTL-UC3M invited speaker to PIC International conference
GOTL-UC3M invited speaker to PIC International conference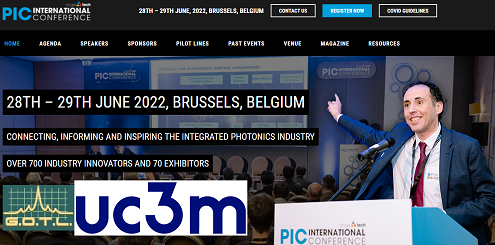 GOTL-UC3M invited speaker to PIC International conference
Date: June 29th 2022
Prof. Guillermo Carpintero is an invited speaker at 2022 PIC International conference, within the session PIC Vision: Revolution and evolution.
PIC International is a leading event for connecting and informing those involved in developing and commercialising photonic integrated circuits. At its seventh meeting, to be held in June 2022, experts from industry and academia gather to reflect on what is needed to strengthen success in existing markets while identifying new opportunities.
The talk will address Targeting terahertz communication: Combining microwaves and photonics, presenting the results on Pathfinder Open TERAmeasure project discussing novel approaches to interface photonics with high frequency signals.
Photonics is the technology associated to high-speed communications, owing to the lowest transmission losses of optical fiber over a virtually infinite bandwidth. This advantage has been realized so far through multiplexing a large number of narrow bandwidth channels. Currently, there are two trends that are challenging this model: (a) the bandwidth of baseband signals is increasing to the limits of the RF interfaces of photonic components, and (b) photonic technologies are spearheading the access to the millimeter and Terahertz wave range. This talk aims to.
Click in the hyperlinks to find the speakers as well as the latest info on the agenda of the event
Interested? Register link here