European Conference on Optical Communication 2022
European Conference on Optical Communication 2022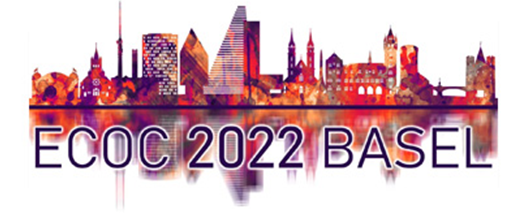 European Conference on Optical Communication 2022
Event Date: 18 September 2022
Event Time: 09:00 AM CEST

Workshop:
Life above 100-GHz: Terahertz device and system challenges and opportunities
Organiser(s)
Guillermo Carpintero, Universidad Carlos III de Madrid, Spain
Dmitry Lyubchenko, KTH Royal Institute of Technology, Sweden
Event link: https://www.ecoc2022.org/programme/workshops/10-programme-description/66-workshop-terahertz-photonics
RF Photonic systems handle photonic and electromagnetic waves, being the only technology today enabling continuous generation of Terahertz signals where vast amounts of bandwidth are available. However, as frequencies increase, also increases the complexity of the characterization and packaging of these systems. Current efforts are towards the development of standardized packaging solutions within Packaging Pilot Lines, providing fiber array access ports and multiple DC electrical connections. However, RF applications are still lagging behind, considering that Beyond 5G aiming to move at frequencies above 100 GHz. This is a major problem since there are few RF connector solutions at higher frequencies, with coaxial standards reaching up to 110 GHz (1-mm connector) and rectangular waveguides segmenting the spectrum into bands defined by flange size. In this workshop we will discuss state-of-the-art for characterization and packaging of photonic Terahertz systems.
This workshop is organized around the TERAmeasure Pathfinder Open EU project (www.uc3m.es/research/terameasure), developing photonic-driven technologies for Terahertz instrumentation. The goal is to develop a photonic-based Vector Network Analyzer operating beyond 1 THz. The workshop provides an overview of why we need these systems, and the current challenges that are faced when developing devices and systems operating above 100 GHz, with key speakers addressing the different components (high-speed photodiodes, detectors), the integration of antennas and the assembly challenges.
Programme
Session 1 (90 min, 20 min per speaker)
Outlook for Beyond 5G communications: Will 100-GHz systems be required?, Atsushi Kanno, National Institute of Information and Communications Technology, Japan
Demonstrations of THz transmission technology based on photonics for future THz-band indoor network, Seung-Hyun Cho, ETRI, Korea
Dielectric rod waveguides for ultra-broadband photonic phased array antennas and THz interconnects, Muhsin Ali, Universidad Carlos III de Madrid, Spain
Broadband PIN-photodiodes and photomixing receivers for photonic THz links, Robert Kohlhaas, Fraunhofer HHI, Germany
Coffee Break (30 min)
Session 2 (90 min, 20 min per speaker + 50 min discussion)
The advancement of THz Test and Measurement equipment for 5G, 6G and beyond, Jeffrey Hesler, Virginia Diodes, USA
Challenges and demands for wafer-level probing of photonics devices, Dan Rishavy, Form Factor, USA
Panel discussion