The UC3M holds the Thesis Talk 2021
How to present your PhD thesis in three minutes
7/27/21
The Universidad Carlos III de Madrid's (UC3M) Doctoral School held the fifth edition of Thesis Talk, a competition in which PhD candidates present the what, how and why of their research project in under three minutes. This presentation tests the participants' ability to summarise and communicate information.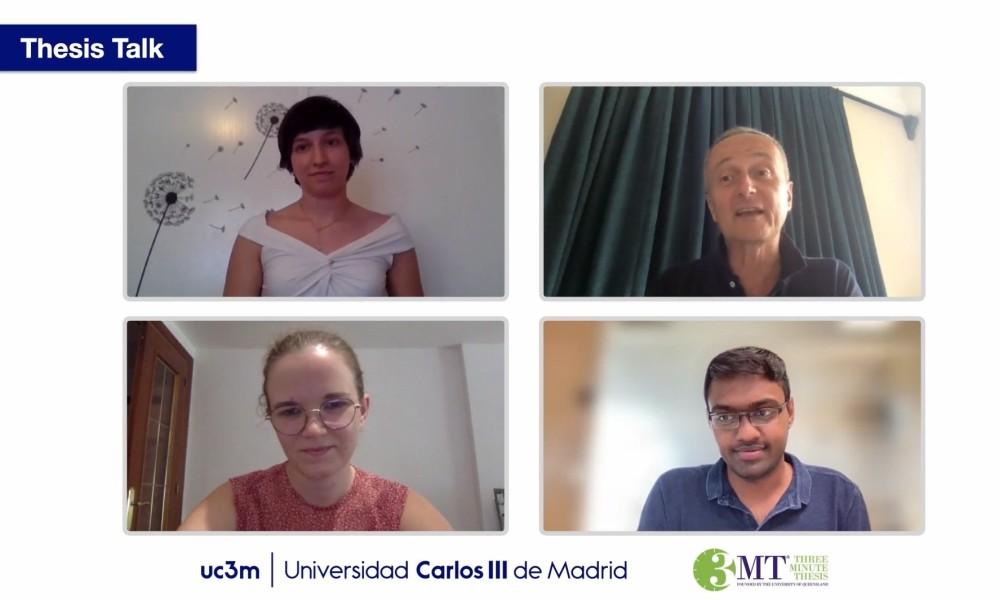 The winners of Thesis Talk 2021 along with the Director of the UC3M's Doctoral School, Marco Celentani (top right). From left to right and top to bottom: Alicia Pose Díez de la Lastra, Cristina Quílez and S. Venkatesh Kumaran.
The final, which was held virtually on the 20th of July, brought together 15 participants, selected from the 64 PhD candidates who submitted their research to this edition. During the session, the finalists presented their research projects in a wide range of areas, such as material science, law, aerospace engineering, electrical, electronic and automatic engineering, computer engineering, fluid mechanics, and biomedical technology.
This year's winners, who received prizes of €900, €600, and €300, were as follows: in first place, Alicia Pose Díez de la Lastra, a Biomedical Science and Technology PhD student, with her talk "El futuro ha llegado a los quirófanos" ("The future has arrived in operating theatres"); in second place, S. Venkatesh Kumaran, a Material Science and Engineering PhD student, with his talk "Multi-component alloys: Defining the new age of materials"; and in third place, Cristina Quílez, a Biomedical Science and Technology PhD student, with her talk "Generación de folículos in vitro" ("In vitro follicle generation").
Those participating in Thesis Talk have to give a presentation, in English or Spanish, in under three minutes using a singular presentation slide or OHP sheet. The jury, comprised of lecturers from the UC3M and professionals from outside the university, assesses the PhD students' ability to present the methodology and results of their theses, the order of their presentation, how clearly they express themselves, and their ability to present ideas and attract the public's attention.
This presentation format - Three Minute Thesis (3MT) - promoted by the University of Queensland (Australia), has been adopted by more than two hundred universities around the world.
More information: Thesis Talk 2021 website