Admission to Ph.D. Programs
Admission to Ph.D. Programs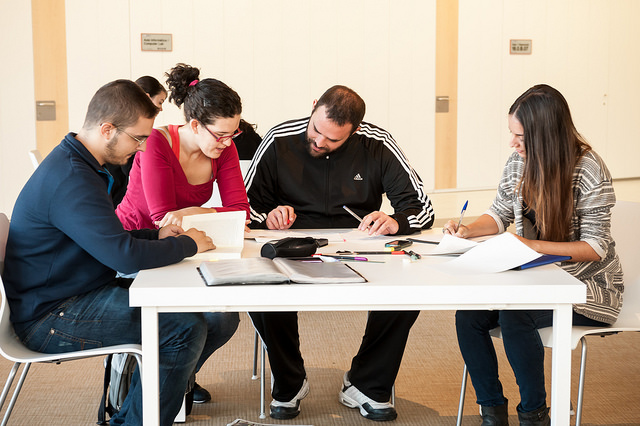 When to apply for admission
You can apply for admission to our Ph.D. programs any time of the year.
Deadline for admission applications for the current academic year is Februrary 28, 23:59 h. (Peninsular Spanish time)​. All applications submitted thereafter will be considered for the next academic year.
Before applying
Please read the following before applying for admission to a Ph.D. program at Universidad Carlos III de Madrid:
1. Ph.D. programs may establish additional admission requirements.
Check the specific terms of access for each Ph.D. program
2. Scan in advance the documentation requirements to be attached to your application. The documents listed below are common to all Ph.D. programs:
National Identity Document: DNI / NIE / Passport
Previous degree certificate (Master's degree or equivalent) or proof of payment of issuing fees. (*)
Academic transcript of previous degree (Master's degree or equivalent), including grades. (*)
Endorsement for thesis project from a professor from the program the candidate is applying for, indicating the connection of the project with the lines of research of the program (**)
Passport-size photograph (optional)
(*) Not required for former uc3m students.
(**) Not required for all programs. Check requirements on the ACCESS tab of each program.
Some programs may require additional documents: letters of recommendation by notable researchers, foreign language skills certificate, etc.
2.1. If your previous degree was awarded by a foreign institution:
Attach a certificate issued by said institution stating that your degree meets the requirements for access to Ph.D. level studies.
Any degree, transcript or certificate must be provided in either English or Spanish (please attach an official translation if necessary).
If your former institution is located outside the European Higher Education Area (EHEA) you are required to provide both your degree certificate and academic transcript legalized via diplomatic channels or the Apostille of The Hague Convention (when applicable). Please bear in mind that this procedure must be done at the country of origin; therefore, it is strongly recommended to do it well in advance.
Find which legalization procedure applies to your country: Legalization of Foreign Degrees
2.2. If you are applying for an Industrial Ph.D., you must additionally submit:
Motivation letter for your Industrial Ph.D.
Endorsement letter by an expert from the company or Public Administration where the project is to be carried out. This letter serves as an introduction of the Ph.D. candidate and his or her project.
(When applicable) Agreement between Universidad Carlos III de Madrid and the company or Public Administration for joint development purposes regarding the project on which the Industrial Ph.D. is based.
3. As a new Ph.D. student, you can choose when to start your doctoral training period:
First semester start date: November 15
Second semester start date: March 30
Your preference must be stipulated in your application, as these dates will be used to estimate the duration of your doctoral training.
After submitting your application
Your application will go through a two-stage review process:
Administrative Validation. Our Postgraduate Office staff will check that your application meets all the requirements and the documentation attached is correct. You will be contacted if necessary.
Academic Validation and Resolution. If your application succesfully passes the previous stage, it will be forwarded to the Academic Committee of the Ph.D. program for review. You will be notified of the Committee's decision by certified mail sent to the postal address provided in your application:
If approved, you will receive an official Admission Letter from uc3m. If your Master's degree studies are unfinished at that point, you may receive a Conditional Admission Letter. In both cases, you must enroll on the Ph.D. program during the period established by the University to that effect, which will be stated in the letter and on our website
If rejected, you may appeal the Committee's decision from the date of reception of the letter, in accordance with Spanish Law 30/1992, November 26th, on Legal Regime and Common Administrative Procedure.