Guía de Autoarchivo en el Repositorio Institucional e-Archivo
Guía de Autoarchivo en el Repositorio Institucional e-Archivo
Cualquier miembro del colectivo de Personal Docente e Investigador de la Universidad puede depositar su producción científíca en el repositorio institucional e-Archivo en acceso abierto.
e-Archivo está integrado con el Portal UXXI Investigación. El autor, en caso de querer depositar artículos, libros, capítulos, comunicaciones a congresos, documentos de trabajo, etc., debe ir al apartado "Publicaciones y documentos" de UXXI Portal del Investigador.

Buscará la publicación por si ya estuviera creada y validada por biblioteca:
Si no estuviera creada, la podrá añadir, introduciendo los datos de la misma: autor, título, editorial y DOI. Posteriormente, el Servicio de Biblioteca procederá a su validación.
Si ya está creada, hay que confirmar si la publicación ya ha sido revisada y validada por el Servicio de biblioteca:

Tanto si está validada como si está pendiente de revisión por el Servicio de Biblioteca, hay que pinchar en el botón "Editar" de la actividad, para que se habilite la sección de e-Archivo donde se permite aceptar la licencia, adjuntar el documento y guardar los cambios.
Pasos a seguir:
1. Se aceptará la licencia de depósito. Mediante dicha licencia el investigador autoriza a la universidad a distribuir y comunicar en acceso abierto la obra depositada en e-Archivo.
2.- Se subirá el fichero que contiene el texto del documento (artículo u otro tipo de documento). Preferiblemente versiones aceptadas "accepted manuscript" o "AAM". Para conocer las condiciones de depósito en abierto de obras ya publicadas o aceptadas se puede consultar la base de datos Sherpa Romeo o Dulcinea.
3.- Por favor, nombre los ficheros con palabras significativas: apellido_primeras-palabras-titulo_año.
4.- Se guardarán los cambios.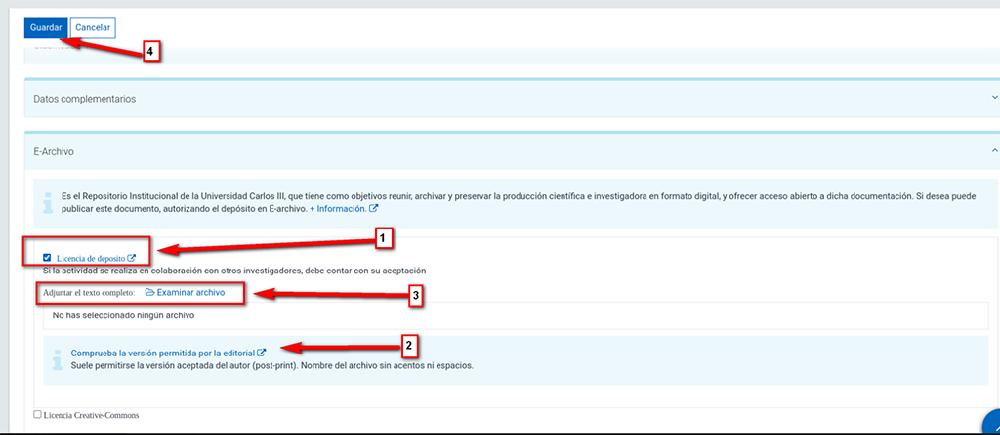 El personal del Servicio de Biblioteca, en caso de duda, tramitará las autorizaciones con los titulares de los derechos de autor de la publicación.
Asimismo, los datos introducidos serán revisados por el personal del Servicio de Biblioteca antes de su publicación final.
Which versions can I deposit?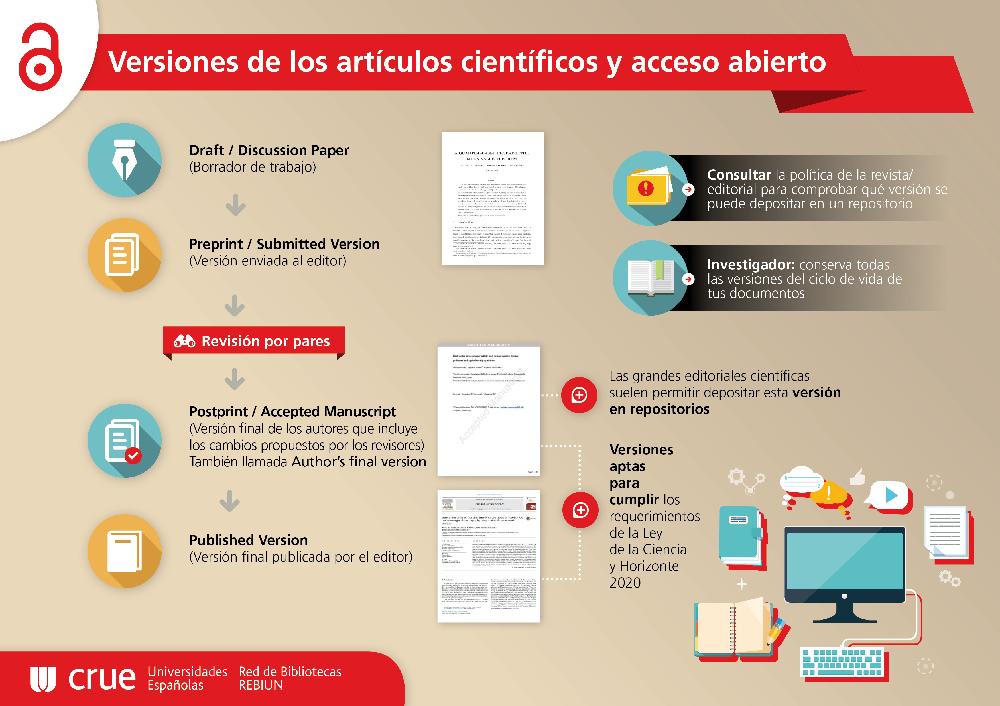 Versions of scientific articles and open access.
Within the life cycle of scientific papers there are several versions. It is advisable to keep these versions.
It is always necessary to manage the copyright to know which version of the document can be deposited in e-Archivo.
- If exclusive exploitation rights have been granted, the major international scientific publishers usually allow the deposit of the version:
Postprint = authors' final version that includes the changes proposed by the reviewers (Accepted Manuscript or Author's final version) without the final layout of the publication.
- If no exclusive exploitation rights have been assigned or APC (Article Processing Charge) has been paid, the version can usually be deposited:
Editorial = final version published in the journal (Published version).
To know the conditions of open deposit of journals and publishers, you can consult the databases:
Sherpa Romeo (international scope)
Dulcinea (Spanish journals)