How to get your Virtual Intelligent University Card
Virtual Intelligent University Card (TUI)
The virtual Intelligent University Card (TUI) will be your identification as a student at UC3M during your stay.
To activate your UC3M virtual TUI, you need to have previously activated your UC3M student account. (If you still haven't activated your email account, please click here for instructions).
To get your virtual card, please follow these steps:
Upload your picture.
To correctly activate your TUI, you need to upload a picture, ideally a passport size photo (the kind of photograph that is required for issuing personal ID documents and passports, that clearly shows your face and has a plain background).
This picture will appear in your Aula Global and other services at UC3M.
1. Go to the website
2. Log in with your UC3M student number (100xxxxxx) and personal password.
3. You have two options if you click on the button "Cambia tu foto/Change your photo":
a. If you are using a computer, you can upload a picture from your drive. It should be a passport size photo, clearly showing your face and in front of a plain background.
b. If you are using your smartphone, you can take a picture right then and upload it. Please mind the recommendations, try to find a plain background and avoid hats, sunglasses, scarves, etc.
Please, do not forget to log out after using this app!
Download the UC3M phone App.

Scan the appropriate QR code above (left for iPhone/right for Android). Open the downloaded file and install the App.
You will see the following information; click on "Acceder".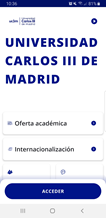 Introduce your UC3M number (for example 100xxxxxx) and personal password to log in. This will take you to the private area of the App.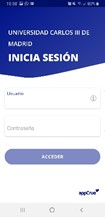 From the private area, you will have access to several UC3M services, which will allow you to see your timetables (after registration), grades, and more useful information and services provided by UC3M.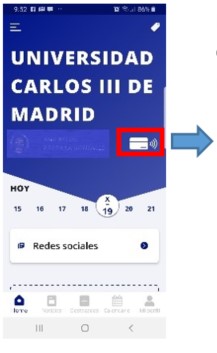 Click on the highlighted button to view your TUI card and check that everything is correct. You can use this digital card to access UC3M Libraries and other services.
At the beginning of february you will also have the card in plastic (physical format) at your disposal that you will especially need if you want to use the sporting facilities of the university. We will inform you by email about how to get the plastic one at the end of the month.
https://www.uc3m.es/ss/Satellite/UC3MInstitucional/en/TextoMixta/1371220464665/Student_Card